CHRISTMAS IS HERE
In search of festive fun? Here's the A&E staffs picks of how to fill your break with holiday cheer.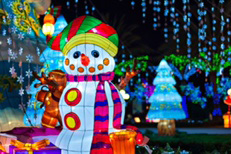 Hang on for a minute...we're trying to find some more stories you might like.
MOVIES
POLAR EXPRESS:  Ever timeless and classic, The Polar Express is a great film to watch whether you're five or fifty. Ever since I can remember, The Polar Express was one of my favorite parts of Christmas. It truly is a classic.
My mom and I would sit on the couch in some comfortable pajamas with a cup of hot cocoa and watch the movie start to finish multiple times every holiday season.
The Polar Express takes place on Christmas Eve where a young boy gets abruptly awakened by a loud train outside on his street. He grabs his robe and heads toward the noise. He is met by an excited train conductor in a hurry to get to the North Pole. He contemplates whether he should go or not and after a few seconds climbs aboard.
On the train, there are several antics that take place as well as some great songs performed. The most iconic, the hot chocolate song; all of the train attendants along with the conductor go into an elaborate dance routine with an over the top song.
They do all kinds of tricks with the hot chocolate and it just amazed me as a child, and today it just gives me a feeling of nostalgia.
MUPPET CHRISTMAS:  Each Christmas Eve, I like to indulge myself in the everlasting tale of The Muppet Christmas Carol in order to properly get into the spirit and think about what Christmas really means right before I sleep and Santa Claus comes.
As the story goes, Scrooge gets visited by the ghosts of Christmas past, present and future and learns a lesson about the spirit of the holiday, later joining in with Kermit and friends to truly celebrate the holiday. Obviously the story remains the same but it goes to show that anything with the muppets in it is automatically significantly better than the original.
The Muppet Christmas Carol is honestly the most inspiring, hilarious and happy holiday films anybody could watch. Even if you aren't a Muppet fan, I seriously recommend finding it on HBO and recording it to watch while wrapping presents or just cuddling up in a blanket with some cocoa.
It's even something your parents can enjoy as it is reminiscent of their own childhood Christmases and will bring them the joy of nostalgia. A Muppet Christmas Carol makes for a great holiday movie for the whole family.
ELF: Elf is one of the only movies that you can watch year in and year out and always feel good at the end. The theme embodies just what the holidays are about and it just gets you in the spirit of Christmas. The movie, featuring Will Ferrell, has always held a place in my heart, as I'm sure it has for many others. It was the first Christmas movie I had ever seen and even year after year of watching it, it never loses its poignancy.
Will Ferrell is the only person that could have played the role of Buddy the Elf properly, and he does it fantastically. His goofiness and childlike wonder is just perfect for an elf and he is the perfect person for it.
The humor in the movie is somewhat over the top but never crosses the line to make it un-family friendly and just blatantly funny.
Even after viewing Elf approximately 10 times, it still surprises me with jokes I never noticed in all my other previous viewings.
The best part is the fact that they never deny the existence of Santa which makes the movie great for all ages, and confirmation of Santa puts all ages into the Christmas spirit.
Walking in a real life Winter Wonderland:  The holiday theme park Global Winter Wonderland has returned to Cal Expo for the fourth year since 2014. Towering light displays, carnival rides, and high prices made for an interesting night. Once you arrive, everything was an additional cost to the original price you have to pay for admission. It cost $10 to park, and $16 for general admission.
It was also an extra expense to ride the classic carnival rides that were at the park.
But the dazzling light displays scattered throughout the park offset this cost. There are huge displays that replicate national landmarks, along with interactive and holiday themed attractions.
The classic carnival rides also added to the overall experience. From a Ferris wheel to bumper cars, there were rides for everyone.
But the rides weren't anything different than the ones you can go on during the summer at the State Fair. And if you are just interested to go to look at lights, you should not invest in this trip. Just the light displays at Cal Expo aren't worth spending the time and money. You would be better off looking at lights on your own.
But if you want to look at lights and enjoy carnival rides all while spending time with your family, this is a trip you should definitely consider this holiday season.