AP Stats teachers' experiences add up
Husband, wife duo share tips
Hang on for a minute...we're trying to find some more stories you might like.
Roseville High School's AP Stats teacher Chaudra Wood doesn't need any math to tell her that two minds are better than one. Thus, she frequently collaborates with her husband and fellow AP Stats teacher, Corey Wood, in finding new and effective ways of teaching students math in the best way possible.
According to Chaudra, her and her husband's shared profession means that they frequently talk about their shared work at home.
"We pretty much talk about what we're doing everyday — that's the benefit of being at the same house together," Chaudra said, "We talk about how the day went and what we're planning to do for the next day, anything that we may say differently or anything that sounds fun to discuss to make it more exciting to the students."
Their classes' exploits,especially, serve as a common topic of conversation.
"Every class that we have has a different personality. We'll talk about our classes a lot: how they're doing how studious they are, how many kids we have from calc versus how many kids we have from precalc," Corey said. "But usually, we just talk about how much we got covered in class that day or if we wanna move a different lesson to a different place because we think the students will understand it better."
Corey, despite teaching at an entirely different high school, said that he and his wife usually bounce ideas off one another for the benefit of their classes.
Whenever they collaborate, the husband-and-wife duo also revise things that they'll be teaching in class and also find ways to make AP Stats more entertaining for the students.
"We work together a lot to come up with project ideas and ways to enhance the subject area and make it fun for the students," Chaudra said. "The basic day to day stuff, the lessons and resources from the textbook are the easy stuff to do individually as a teacher, but coming up with fun activities for students is more challenging, and so it makes it a lot more interesting to work with someone else to do it."
Collaborating frequently has lead both teachers to notice their differing styles of teaching, and how they sometimes conflict with one another other.
"She's more the structured 'follow the notes to the T' kind of thing and we have different personalities and that's going to be reflected in how our classrooms work," Corey said.
Chaudra is able to use their different teaching styles to positively impact her class environment, as he encourages her to find new, effective and innovative ways to teach math.
"My husband definitely inspires me to come up with cool things. It really inspires me to find real world stuff for my students to kinda get an idea of what their learning about that has to do with this day and age," Chaudra said.
As Chaudra and Corey both have plenty of experience teaching under their belts, they are able to take any disagreements that arise in stride and do their best to solve them.
"Usually if we disagree about something we'll just go ahead and talk it out and figure out what is best for the students," Corey said.
RHS senior and AP Stats student Courtney Carpenter thinks that the work both teachers do together leads to a better learning experience for students.
"I think it's a really cool experience, because you get even more insight," Carpenter said. "And if she doesn't know the answer to the question she has no problem emailing her husband and seeing if he knows and if he can better explain it to her students."
About the Contributors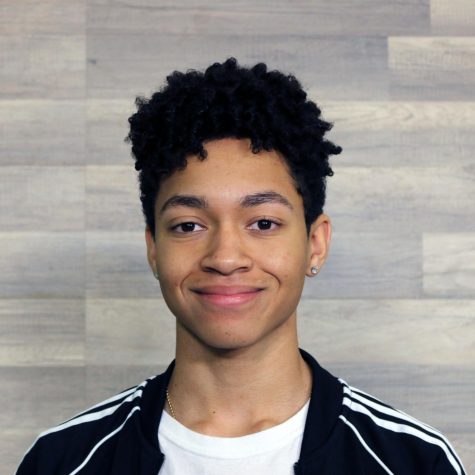 TYLER COOPER, REPORTER
Tyler Cooper is a reporter for Eye of the Tiger.

Cooper has been in the program as a reporter for two years.

Cooper strives to be an informative reporter.

[email protected]