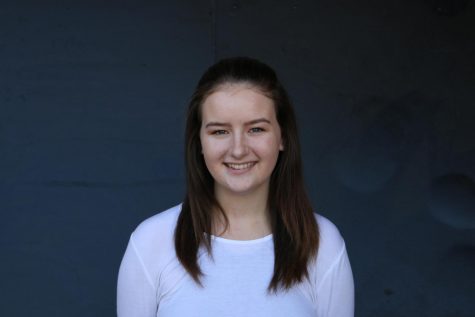 Description
Rachel Barber has been enrolled in journalism since her freshman year. She describes herself as "Seeing the world through a journalistic lens."
Activities
Barber works as the president of the Model UN team. In her spare time, she enjoys playing guitar and piano.
Career Aspirations
Barber plans to make journalism her professional career.
Favorite Artist
Billy Joel.
RACHEL BARBER, EDITOR-IN-CHIEF
Mar 21, 2018

Principal announces lockdown's end

(Story)

Mar 21, 2018

RHS on lockdown while administrators investigate "suspicious threat"

(Story)

Oct 02, 2017

HUMANS OF RHS: Luis Zarate

(Story)

Sep 11, 2017

HUMANS OF RHS: Marc Aldrete

(Story)

Mar 13, 2017

BARBER: AP Comp Gov dreams now reality for Class of '18

(Story)

Dec 13, 2016

Roseville PD to cite unpermitted parking tomorrow

(Story)

Nov 26, 2016

'Gilmore Girls: A Year in the Life' carries out director, fans vision

(Story)

Nov 10, 2016

Swastika graffiti defaces campus

(Story)

Nov 08, 2016

School-centric items hit local ballot

(Story)

Oct 24, 2016

BARBER: Leave outside resources out of in-class lectures

(Story)

Oct 10, 2016

Campus arrest reveals defiance discipline gray area

(Story)

Oct 10, 2016

NOTICIAS: La desafianza de un estudiante de Roseville High Schhol y su incidente con el asistente director, Wilson

(Story)

Sep 30, 2016

PHOTOS: RHS celebrates 2016 Homecoming

(Story)

Sep 02, 2016

$1.8 millones de renovaciones del campus cerca de finalización

(Story)

Aug 29, 2016

$1.8 million campus renovations near completion

(Story)